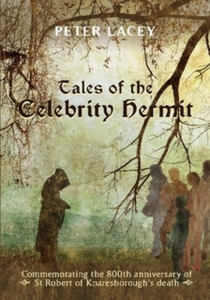 Saturday 10th March saw the launch of 'Tales of the Celebrity Hermit' at Knaresborough Library and despite the cheerless weather, 40 people came along to see what it was all about.
As well as launching his book of short stories for adults about St. Robert, Peter Lacey also read an extract from his children's story 'Nigel, the Knight Who Came Home', and launched the short story and art competition (see details here).
Daniel Ingram-Brown, author of The Firebird Chronicles series of children's books, did a Q&A session with Peter about how he came to write the book and the challenges of writing fiction, before inviting questions from the audience.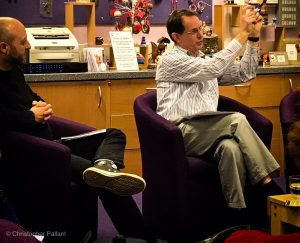 There was a St. Robert timeline to view, details of the newly devised Pilgrimage Walk, and lots of people went away with a pattern to knit their very own St. Robert with a view to yarn bombing the town in August. Peter sold over 40 copies of the book – all proceeds towards the St. Robert anniversary celebrations.
Lots of people made favourable comments about the event:
"It was great to find out more about St. Robert, I've been to the hermitage but didn't know anything else about him."
"I didn't realise there were a whole year of events planned for this anniversary so it was great to find out more & see the website."
"Time that our local saint was better known so glad that the anniversary is being celebrated."
"This was more than just a book launch – lots of useful info."
"The Q&A session before the book reading was a good idea."
One lady had only come to Knaresborough for the day, had been to the Hermitage and only popped into the library for some information – she was thrilled to find a whole event ready and waiting for her!
Deborah Thornton, Outreach Librarian at Knaresborough Library said "We were thrilled to be able to host this event and support what is a very special anniversary for the town. St. Robert should be as well-known as Blind Jack and Mother Shipton and we look forward to being involved in the celebrations throughout the year."