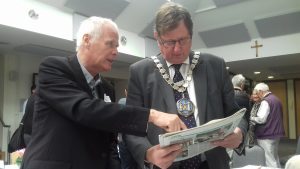 On the 24th September 2017, exactly one year before the 800th anniversary, about 40 people attended a launch event to gather ideas and support for activities and events to mark this important anniversary for the town.  People came from near and far (if Pannal, Derbyshire and Glasgow all qualify) to hear David Goode, the Town's Mayor, and the Rev Garry Hinchcliffe, Anglican Team leader, welcome the initiative. 
A virtual count-down clock was unveiled, which now continues to mark off the days to the official anniversary.  Visitors were given a reading from the first chapter of what was later published as Tales of the Celebrity Hermit and were then invited to explore one of a number of themes in table-top discussions.  This is where ideas started to emerge for a pilgrimage walk, a concert, the children's short story and art competition, a FEVA performance and, of course, the yarn bombing! 
The event provided an important stimulus to the energy already being experienced within the co-ordination group and laid the ground work for much that was to follow.
To view some photos of the launch event please see our Image Gallery.