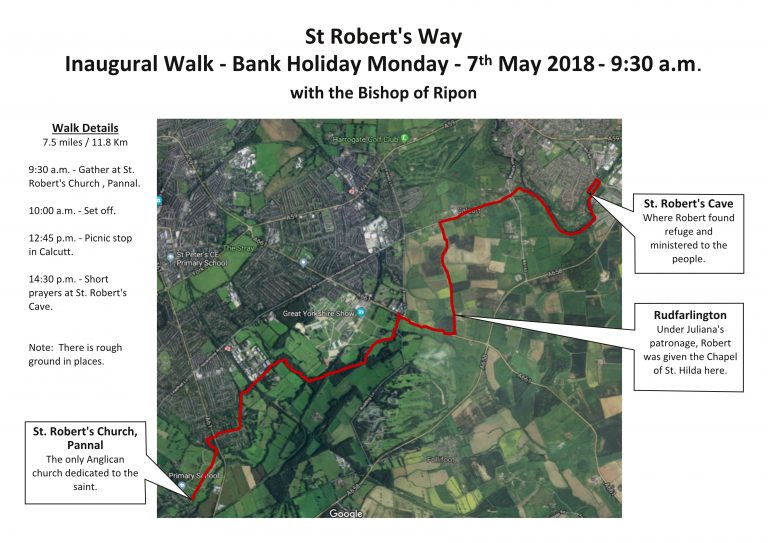 St. Robert Pilgrimage Walk
Inaugurating "St Robert's Way" with Rt. Revd. Dr. Helen-Ann Hartley, Bishop of Ripon
Monday 7th May 2018
Meeting 9.30 a.m. for prayer in church, to begin walk at 10 a.m.
St. Robert's Church, Pannal
As one of the first events to mark the 800th anniversary of the death of St. Robert of Knaresborough, St. Robert's Church in Pannal offer this pilgrimage opportunity from the only Anglican Church dedicated to the Saint to his famous Cave by the river in Knaresborough. The walk will take us along a stretch of the Harrogate Ringway and then adjoin with part of the Knaresborough Round, taking in Rudfarlington Farm where Robert also spend some of his life. On arrival at the cave, there will be a short worship service at around 2.30 p.m.
The full walk is 7.5 miles, taking in some stunning views of the Crimple Valley Viaduct, and crossing open grassland, woodland and riverside walking. The terrain is mixed but is relatively level. Walkers are invited to bring a picnic lunch to eat at Calcutt, around 4.5 miles into the walk.
For those unable to access the full walk, you would be welcome to join us at St Robert's Cave on Abbey Road at 2.30 p.m. for a special worship service. PLEASE NOTE: There is very limited parking available at the cave.
A map overview of the walk is provided below. Pannal train station only 5 minutes walk from the church and services run from Leeds, Harrogate and York to this station every half an hour. There is also parking at St Robert's Church in Pannal. Lifts will be available to Knaresborough Train Station at the end of the walk where trains run to Pannal, Leeds and York every half an hour.
If you plan to join the walk, please register your interest by emailing Revd. Abbie Palmer at curate@strobertschurch.co.uk. You can also contact Abbie if you have any questions or queries about the pilgrimage.
A map of the walk can be downloaded here.