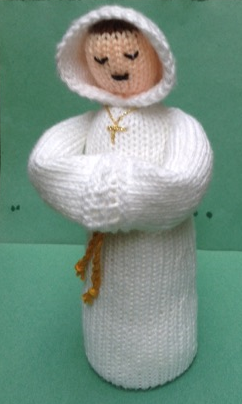 On the Friday evening of the big weekend people gathered to hear the story of St. Robert told through music, song and prose.  The hosts recreated aspects of St. Robert's life in five stages.  Growing up in York there were cases of political intrigue overlaid with the hustle and bustle of the growing market town.  But Robert, faced with a number of options, chose a life of solitude.  A small brass ensemble played 'A Little Prayer'; Rev. Garry Hinchcliffe led the audience in a brief meditation; and Carmel Wake sang 'A Gaelic Blessing', all helping to recreate an atmosphere of reflection.  But all did not remain calm – the audience were then led through examples of conflict, particularly with the infamous William DeStuteville – recreated in an extract from Mark Pallant's Flower of York and in an audio version of the story.
This led on to the fourth stage of St Robert's life – the service he provided to those around him.  This was celebrated in part by the announcement of prize winners in the Children's short story competition.  Eden Furniss, Betty Williamson and Eloise Allison were all presented with specially signed copies of a book containing their stories by Knaresborough's Mayor, Councillor Phil Ireland.  A further piece from the brass ensemble, 'May the Mind of Christ my Saviour…' provided context of St. Robert's long period of service, perhaps 25 years, at the cave site that now commemorates his life.  Finally, the audience were taken to perhaps the most famous of scenes, the visit of King John.  A further audio extract was used, with the finale coming with a performance of 'King of Kings'. 
Much excitement was then experienced as people were invited to take a knitted St. Robert to a good home, along with a copy of the children's stories, for a small donation.